Melhorias significantes no Menu Vivaldi, configurações padrão globais para notificações, performance melhorada e mais – tudo isso na mais nova versão para computador do Vivaldi.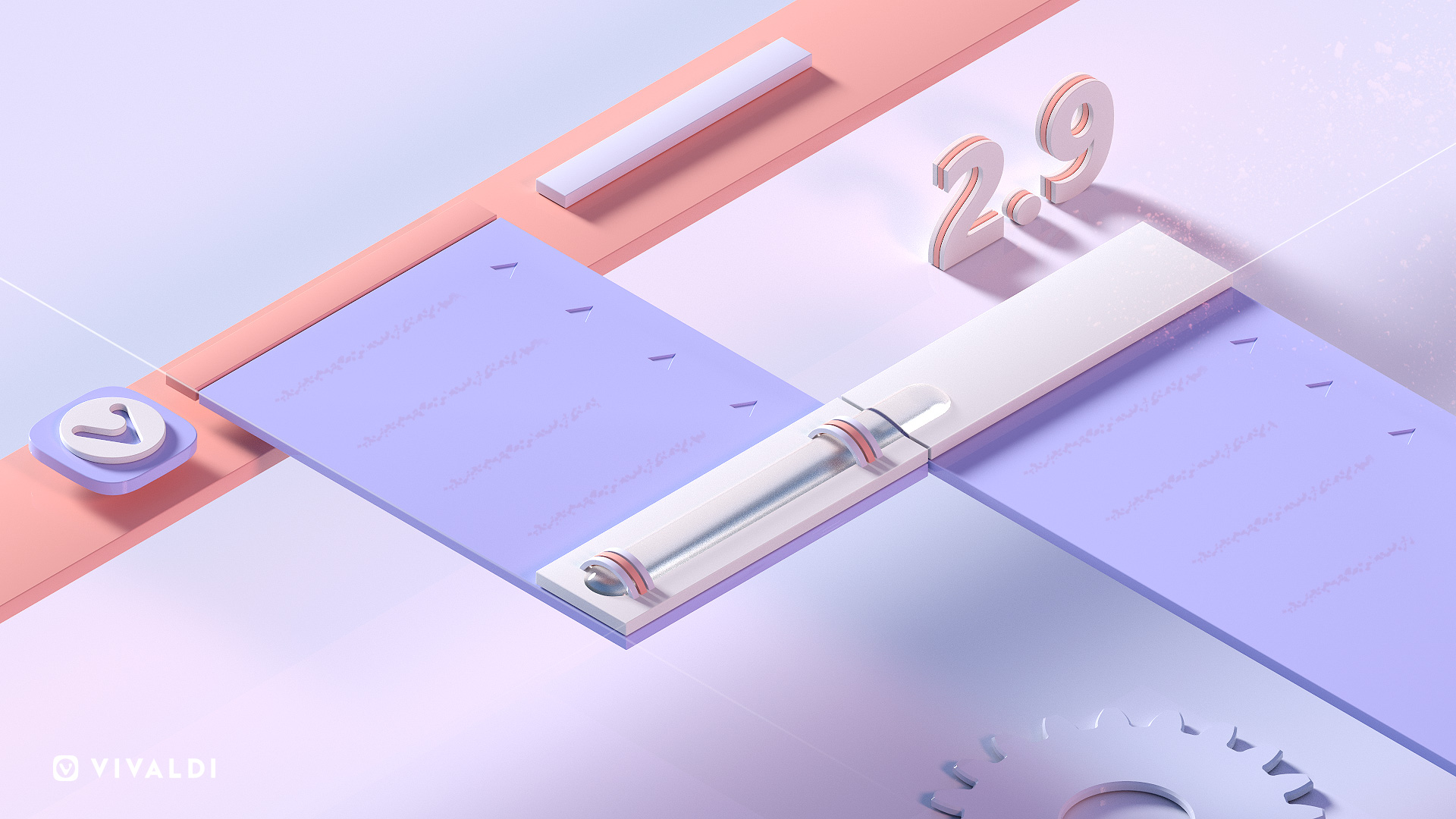 Vivaldi 2.9, a nossa versão para computadores do navegador Vivaldi chegou. Você pode agora acessar funções mais rápido com o Menu Vivaldi melhorado. Você pode também parar de receber notificações de sites indesejadas. Além disso, você encontrará uma permance geral mais leve e poder executar áudio e vídeo com mais fluidez.
O que há no Menu?
Há diferentes maneiras de acessar várias funções no Vivaldi tais como Atalhos de Teclado, Gestos de Mouse e Comandos Rápidos. O Menu Vivaldi é uma delas.
Se você está no Windows ou Linux, você pode configurar o Menu Vivaldi do jeito que você quer – tal como o ícone do Vivaldi, ou configura para mostrar o menu horizontalente através do topo da janela. Você mesmo pode escolher o estilo do ícone do menu, acrescentando mais flair to it. Simplismente vá para Configurações > Aparência > Menu.
Nessa nova versão, nós temos trabalhado um pouco no Menu Vivaldi e sua estrutura. Adicionando mais opções e flexibilidade, você pode acessar suas funções preferidas mais intuitivamente e mais rapido.
Muitos usuários preferem acessar funcionalidade usando a barra do menu. E com esse lançamento, a navegação pelo teclado e o manuseio do mouse nos menus melhoraram enormemente.
Aqui estão os novos elementos que foram adicionados ao Menu Vivaldi:
Painéis Web: Você pode agora acessar seus Painéis Web personalizados no menu superior. Isso significa fácil acesso aos sites que você adicionou na barra lateral do Vivaldi, te permitindo adicionar as suas redes sociais, sites de notícias e muito mais.
Exibir Barra de Guias: Acesse sua barra de guias com um simples clique ou mesmo esconde-a para ter mais espaço para o conteúdo do site.
Marcadores: Quando você ver um Marcador listado no Menu Vivaldi, você pode agora usar o botão direito do mouse para acessar um menu de contexto e executar diferentes ações com isso.
Reportar um bug: Reporte um bug diretamente do menu Ajuda do navegador.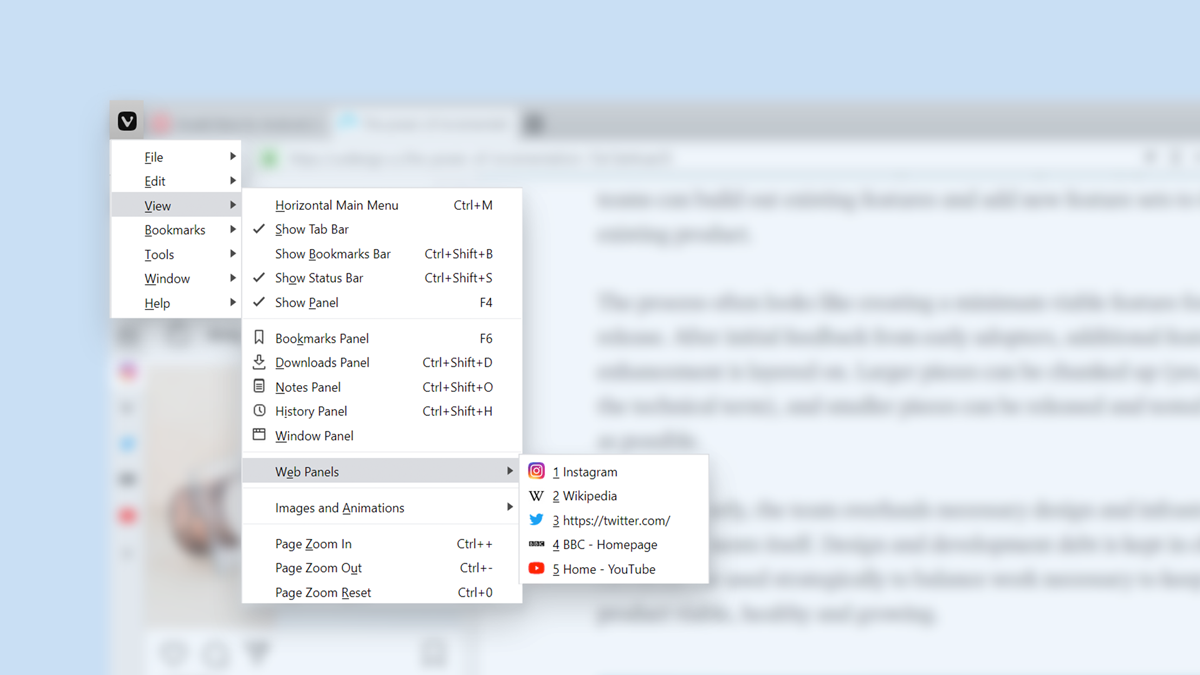 Configure permissões de sites de padrão global
Notificações aparecendo na sua tela de sites aleatórios às vezes é invasivo e indesejável (ou na maior parte do tempo).
É claro, você pose sempre fechar essas notificações uma por uma, ou ajustar as permissões do site on a per site basis.
Mas nós queríamos ir um pouco mais longe e de a você uma maneira de se livrar dessas irritantes interrupções. Você pode configurar preferências padrões globais para pedidos baseados em sons, geolocalização, câmera, microfone, sensores de movimento, Bluetooth, aparelhos e Pop-ups.
Essas opções podem ser facilmente controladas indo em Configurações > Navegação > Default Permissions.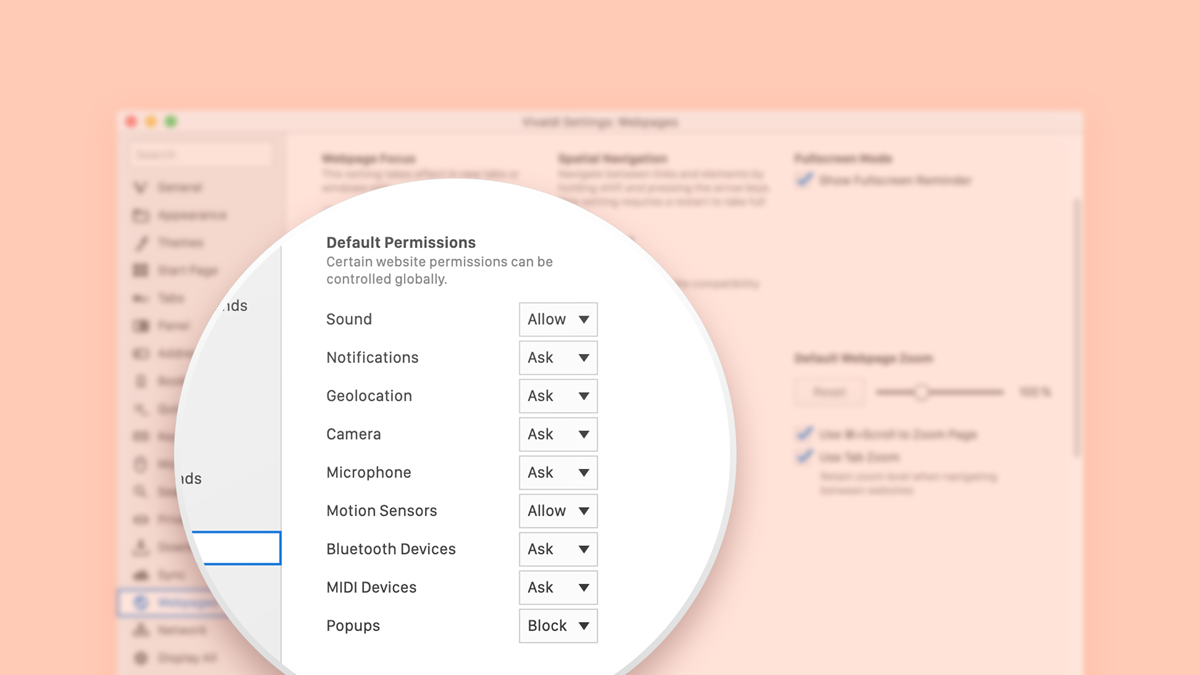 Mais novidades no Vivaldi 2.9
Melhorias de Vídeo para macOS: Essa versao trás um processo significante ao corrigir alguns problemas com vídeos em HTML5, onde os vídeos não rodavam em máquinas antigas.
Melhor Performance: Nosso trabalho incansável em evoluir a performance no geral inclui atualizar alguns componentes. O abrir e fechar de guias está mais suave, resultando em melhorias na velocidade.
Melhorada a usabilidade para usuários em países do CJK (China, Japão e Coréia): Nós recebemos muito amor do Japão e (de fato) tem sido o nosso maior país no uso do navegador desde o começo. Continuamos a resolver qualquer problemas que that are obstáculos para os nossos usuários. Essa versão conserta alguns problemas difíceis de IME (Input Method Editor) na Barra de Endereços. Você pode agora navegar sem dificuldade usando o menu suspenso ou mesmo digitando uma letra Coreana duas vezes no Campo de Endereços.
Vivaldi 2.9 está pronto para ser testado. Baixe agora e nos deixe saber onde podemos melhorar. Estamos sempre de olho em seu valioso feedback. E se você gosta de ir a fundo vendo os detalhes das melhorias, o changelog da versão 2.9 está logo abaixo.
Changelog
Novidade
[Cookies] Page prevented from using cookies dialogue (VB-22928)
[Menus] Add a link to the bug report wizard from help menu (VB-12835)
[Menus] Add web panels to View menu (VB-50286)
[Menus] Alt + 'letter with a diacritics' does not open items (VB-12688)
[Menus] Let F10 and Alt toggle focus (VB-58586)
[Menus] Show Tab bar in View menu (VB-33425)
[Menus][Accessibility] Make available letters for menu accelerators case sensitive (VB-58985)
[Menus][Bookmarks] Edit/Add Bookmark/Add Folder missing from bookmark context menu (VB-50909)
[Menus][Bookmarks] Empty directory missing "Add Active Tab" menu item (VB-58682)
[Menus][Keyboard] Add F10 support (Focus Main Menu) for Vivaldi menu (VB-57596)
[Menus][Themes] Move background image from tab bar to window so that it also includes the horizontal menu (VB-37886)
[New][Settings] Options to globally block site permissions: "Menu → Tools → Settings → Webpages → Global Permissions" (VB-58931)
Address Bar
Searching with another search engine than default has wrong favicons in drop down (VB-58450)
[Regression] Search string becomes incomplete if it matches a bookmark nickname (VB-58642)
[Regression] The URL field in new tab clears if the tab is switched (VB-57553)
Autocomplete doesn't match on history item titles (VB-57769)
[IME] Cannot go through dropdown suggestions after confirming input (VB-57896)
[IME] It is impossible to use same Korean letter in address bar (VB-58049)
[Regression] Autocomplete from bookmark nickname can write nickname itself (VB-57483)
[Regression] Clicking address field makes selected URL disappear (VB-57486)
[Search] Dialogue doesn't close if you click the choose search engine button (VB-52599)
[Search] site: search restriction (VB-57702)
[macOS][Linux][Regression] Path to local directory treated as search query (VB-57353)
Comandos Rápidos
Calculator can copy inexact number (infinite decimal) to clipboard (VB-57487)
Make 'Create Note' respect settings (VB-57734)
Developer Tools
[Regression] Ctrl+R reloads webpage and closes Developer Tools (VB-56590)
Pressing Esc may affect ajax requests (VB-58166)
[macOS] Crash when undocking (or opening undocked) (VB-48293)
Extensão
Can't query selected tabs with chrome.tabs.query webextension API like in Firefox and Chrome (VB-56501)
Tab status is not correct for when loading as pending content (VB-44228)
Volume Master extension does not work (VB-38661)
Linux
A warning is displayed on install via zypper/OpenSUSE
Make proprietary media (H.264/AAC) support more reliable (VB-59143)
Vivaldi does not offer to make itself the default browser (VB-56921)
macOS
Vivaldi becomes UI-less after opening a tab in fullscreen (VB-58176)
Proprietary media playback broken on older Macs (VB-55187)
Unreachable controls in fullscreen popup window (VB-44439)
Vivaldi has two "Quit Vivaldi" commands (VB-57532)
Marcadores
[Panels][Crash][Regression] Bookmark panel crash (VB-58221)
[Regression] Can't create bookmark with Enter (VB-55841)
[Regression] Editor is not updated after deleting bookmarks from trash (VB-56360)
[Regression] Folders are not sorted separately in menu (VB-57652)
Menus
Clicking the Vivaldi menu two times does not close the menu (VB-23779)
Double-clicking anywhere in horizontal menu bar toggles window maximized (VB-57570)
Horizontal – with a too long list, items to the right cannot be selected (VB-57293)
[Linux] Alt opens menu, but will not close it (VB-39080)
Prevent menu from obscuring status bar button (VB-58631)
Show Tab bar in View menu (VB-33425)
Wrong shortcuts displayed on view menu (VB-54907)
[Accessibility] Make available letters for menu accelerators case sensitive (VB-58985)
[Gestures][macOS] Add "Focus Main Menu" command (VB-57550)
[Keyboard] Add F10 support (Focus Main Menu) for Vivaldi menu (VB-57596)
[Regression] Two menubar buttons can be selected (VB-59193)
[Themes] Move background image from tab bar to window so that it also includes the horizontal menu (VB-37886)
Notas
[Panels] Auto-close causes attachment not to complete successfully (VB-58364)
[Sync] Set the proper creation time (VB-57496)
Painéis
Resizing Bookmarks Panel editor flashes (VB-58540)
Does not hide on touch (VB-58517)
Hidden sorting icon in narrow view (VB-46527)
Sidebar should also be floating along with the panel (VB-42338)
[Regression] Previously typed web panel gets added when you try to add a new one (VB-57499)
[macOS] Fullscreen toolbars covered by floating panel (VB-59173)
Speed Dial
Cannot cut and paste folders and entries on the start page (VB-53749)
No more alpha on icons (VB-57890)
Preserve thumbnail ratio (VB-57990)
Search button missing from search field (VB-57646)
[Regression] Search field opens dropdown in wrong direction (VB-58752)
Outros
[Crash] Browser crashes when closing certain websites (VB-54874)
[Performance] Various performance improvements, including a limit on overflow tab animation (VB-52682)
[Profile Manager] Deleting profile makes Vivaldi unstable (VB-57771)
[Sync] Typed whitespace around the username should be trimmed to avoid login issues (VB-58328)
[Sync][Crash] Vivaldi crashes when trying to authenticate (VB-55979)
[Tabs][Regression] Thumbnail does not display in some cases (VB-58069)
[Themes][Regression] Editor colors don't update when selecting another theme (VB-49541)
[Themes][Regression] Low contrast in dialogs and settings for some themes (VB-57686)
[Windows] Razer Chroma popup and Default browser popup overlap (VB-56898)
[Reader] Line breaks in children of pre elements are ignored (VB-38035)
[Regression] Find-in-page affects new pages too (VB-57748)
[Search] Using a search engine with no Suggest URL, Vivaldi will show other engines last history (VB-54949)
[Windows][Linux] Disabled shortcuts are shown in menu (VB-50948)
[Windows][Linux] Icons in dark menus are invisible (VB-59064)
"Add search engine" dialog disappears after mouse-selecting default name (VB-56290)
Background click shouldn't close JavaScript dialog (VB-57980)
Page Flash with multiple tabs (VB-33286)
Scaled displays does not work with "Styled find in page" (VB-54590)
Sensors permission popup needs improvement (VB-50904)
Tab drag image is scaled by device screen resolution (VB-58597)
Upgraded Chromium to 78.0.3904.72